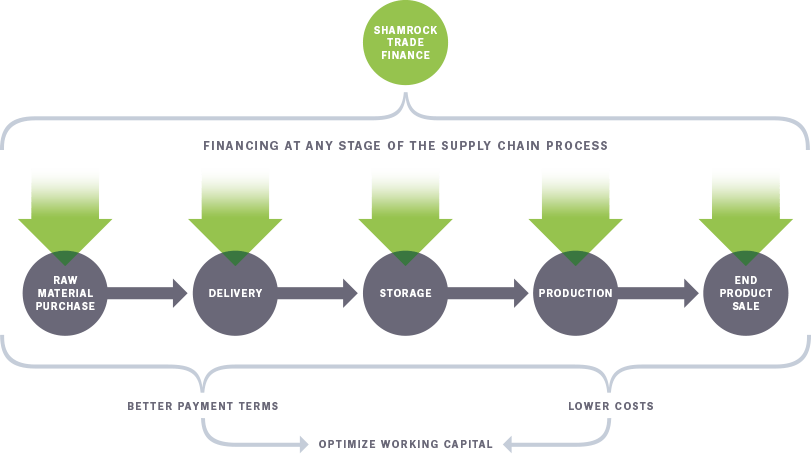 Financing options at any stage of the supply chain
As a result of an unstable global economic climate and the severely adverse lending from local banks and other financial institutions, companies face a low availability of financing options. More than ever, companies are seeking working capital to keep transactions going, funds to invest in new projects, or simply money invested in the expansion of current business in the form of trade finance, i.e. financing of trading activities. Shamrock Shipping and Trading financial services empower our clients.
Don't limit yourself to financial services available locally.
There are much more financing alternatives than you think.
BENEFITS
Accessibility of financing at preferable rates
Working capital and cash flow improvement for procurement and processing
Off balance sheet benefits
Execution speed and performance
Documents processing
Focus on core skills
Supply chain management
Liaising with professionals and experts in trade finance
You are looking to:
Increase & diversify your trading activities (import/export)
Secure your transactions
Obtain favourable Terms & Conditions
Find the resources to undertake the financial and operational aspects of your activities.
We make it happen by:
Payment to producers/suppliers
Financing of inventory (stock)
Financing of goods while in transit
Financing of receivables (deferred payment to customers)
Click here to make a financial services enquiry
If you would prefer to discuss your requirements in person, please call +357 25 256 115