Last week Shamrock exhibited at the ICIS 22nd World Base Oils and Lubricants Conference as an official sponsor. Held in London, the Conference is considered as one of the key events in the year, focusing on the global base oil and lubricants market outlook, and uniting suppliers and clients worldwide.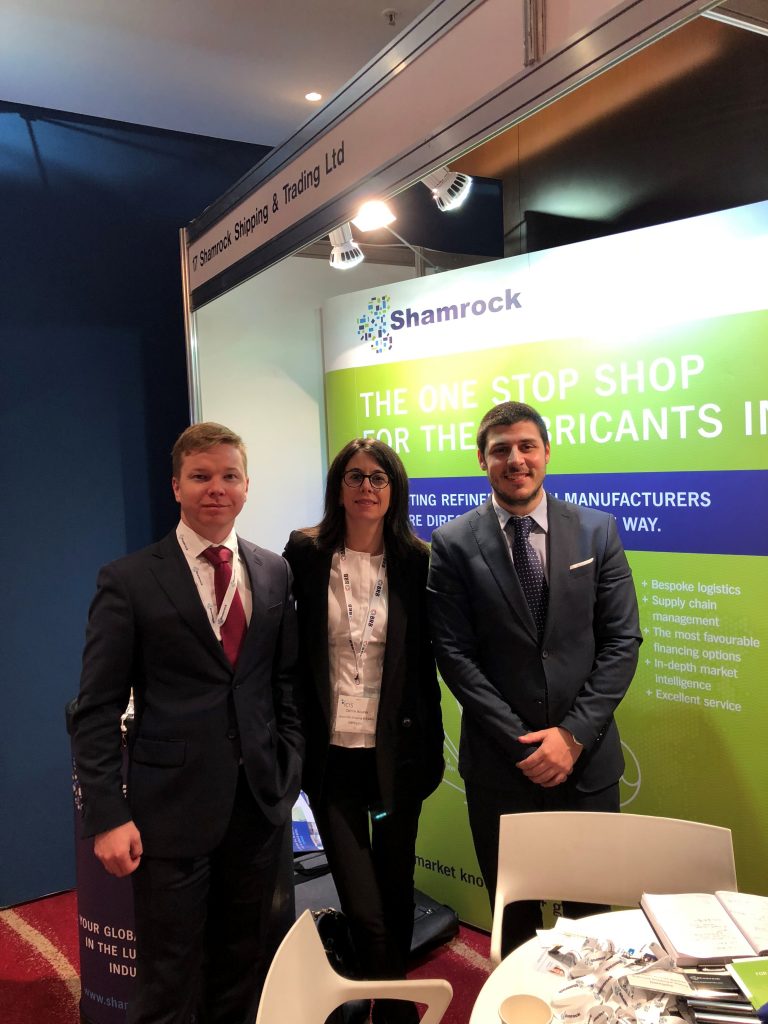 This is an important event for Shamrock, and one that we have consistently supported over the years, which is why we decided to sponsor this year's event. As a global service provider in the lubricants market, we are involved in the whole supply chain, connecting refineries with manufacturers in a more direct and transparent way. This Conference provided a great opportunity for networking, for promotion of our growing team and to meet with existing customers and suppliers.
This year's event was particularly interesting and useful to give an outline of the major trends in supply and demand of global base oils and lubricants in 2018. Indeed, the main theme of the Conference was declining lubricant demand and how the industry can adapt to this changing environment.
New capacities of Group II base oils in Europe and the Middle East will change the region's supply/demand balance. This means that refineries in the region may need to find new markets for the increasing spot volumes. Shamrock is the right partner to support: with potential customers in 40+ countries, we can provide custom supply chain solutions that mean refineries can concentrate on core competencies and avoid many of the logistical and trade-related risks.
Another topic of interest was around the Group I base oils market shrinking in some countries, which again will impact refineries. They are having to look for new customers in remote regions that are not traditional markets for them. The cost of bulk deliveries to some of these regions can be too high, and so flexitanks can provide a more cost-effective solution. Flexitanks are a multimodal type of transportation, meaning door-to-door deliveries can be made to even the most remote inland destinations. As a pioneer in base oil deliveries by flexitank, Shamrock is uniquely placed to offer this safe and flexible technology, that can not only optimize the supply chain, but also offer greater market accessibility.
Finally, discussions around approved and non-approved Group III base oils is a recurrent topic. A number of Group III refineries will be on maintenance during the first quarter of 2018 which may tighten the spot market and leave blenders with limited options. Yet ample supply has brought down prices for non-approved, driving a wide wedge in the spread of prices for differently approved Group III base oils for much of 2017, continuing into 2018. Regardless of the situation, at Shamrock we are always able to source the right products for our customers' requirements at the best value, providing the most favourable logistics and financing terms along the way.
As ever, the Shamrock team will continue to monitor the development of the base oils and lubricant markets and stay up-to-date with current and forecasted market trends. We will provide our partners with detailed local market knowledge and global expertise whenever required.
For more information on how we can support your business, get in touch with us at + 357 25 256 115 or trade@myshamrockgroup.com