Last week, Shamrock spoke at the ACI European Base Oils & Lubricants Interactive Summit in Italy. Shamrock was invited as a speaker to offer our opinion on how industry players can remain competitive in today's dynamic climate.
Mila Kozomara, Marketing Manager, represented Shamrock at the event and proposed to the audience that better supply chain solutions can increase business potential.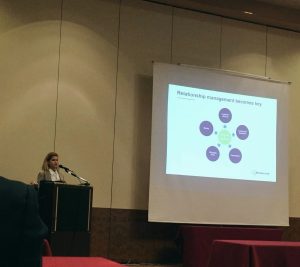 Over the last decade, we have seen the lubricants industry become more global, more diverse and much more competitive. Players have had to look beyond their traditional markets to remain competitive, which has opened up new supply and distribution channels and brought more product into Europe, changing the dynamics of the base oils market. This globalization of the lubricants industry has introduced a whole host of new challenges.
From a purely logistics point of view, things are no longer straightforward. In the past if you needed to get product from Belgium to France, you would simply call a haulage company. However, now, industry players are working with overseas counterparties and if you're a refinery located inland, getting your product to the customer is more complicated. You need to transport your product to a port, then have the product be shipped to another port and then from that port to the customer. On top of that, each market has its own requirements for shipping and customs documentation, and local regulations that need to be learnt.
Moreover, the number of relationships that need to be managed has increased. There are new customers, new suppliers, new shipping lines, new forwarders, new customs officials, banks, and so on. All of whom who have different ways of working, and who may not even speak the same language. And yet you will have to play the role of the coordinator between all these parties to ensure the correct instructions are being given so the product is delivered safely, on time and the customer can clear the product. It may seem simple, but on the contrary. It's time consuming and it requires a lot of knowledge
From a financial viewpoint, there are also challenges. The new markets you are dealing with also have different financial regulations, different financial risks, and you will need to understand what your market exposure is.
So how can these challenges be overcome?
At Shamrock, we think it comes down to your supply chain and added value. And this comprises of three components:
All these elements will have to be mastered in order to sustain competitiveness and even increase business potential. It's certainly not an easy job, but we believe there are always better solutions to be found and, indeed, Shamrock can offer these solutions to you.
From assessing the opportunity risks of new markets and advising on different regulations to taking care of all the logistics to ensure efficiency and responsiveness and helping you to avoid many of the logistical issues and trade-related risks. And, importantly, as a partner experienced in trade finance, we can advise on the best financing solutions and take care of all the frequently complicated financial documentation.
Ultimately, though managing supply chains is complex, at Shamrock we want to take that complexity away so that you can concentrate on what you do best, on your core competencies, and on adding true value to your customers.
To find out more about this topic, or Shamrock's solutions, get in touch at trade@myshamrockgroup.com