Next week, Céline Boutier, Managing Director, and Andreea Manaila, Trader, will be attending the ICIS 15th Middle Eastern Base Oils & Lubricants Conference taking place in Dubai, 15th-17th October.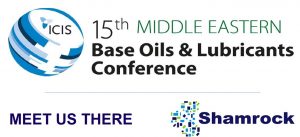 It's the biggest event for the industry in the region, attracting over 370 delegates. The Conference this year will cover the dynamic transformations and commercial development of the Middle East market, including the drive for higher quality and innovation. We look forward to hearing about the trends and outlook for the region over the upcoming years, as well as catching up with our partners in the region.
Shamrock has consistently supported the ICIS Base Oils Conferences and we use these events as a platform, to not only meet with our existing clients and suppliers, but also to create networking opportunities for future strategic decisions as well as allowing us to come into contact with new customers. We hope to see you there, so why not take the time to contact us to discuss meeting opportunities.
Contact:
Céline Boutier, +33782032401.
Andreea Manaila, +35796989299.