Céline Boutier, Managing Director of Shamrock Shipping & Trading, explains the need for shippers to find the best supply chain partner and create a robust strategy for the future.
The petrochemical industry is in a period of extreme transition. A decline in advantaged feedstock supplies from North America and the Middle East. This is coupled with a predicted slow-down in demand growth in emerging markets, such as China, which is putting margins at risk and calling into question capacity additions. Even global market forces like the US-China trade war and NAFTA negotiations are all putting pressure on market players. In the coming years, all players will have to work much harder to hone their core capabilities and strategy. At the same time, however, high-levels of customer service and the smooth day-to-day operations of export-import of products must be maintained. The right partner can help with the three key pillars needed to achieve this: distribution, supply chain management and financing.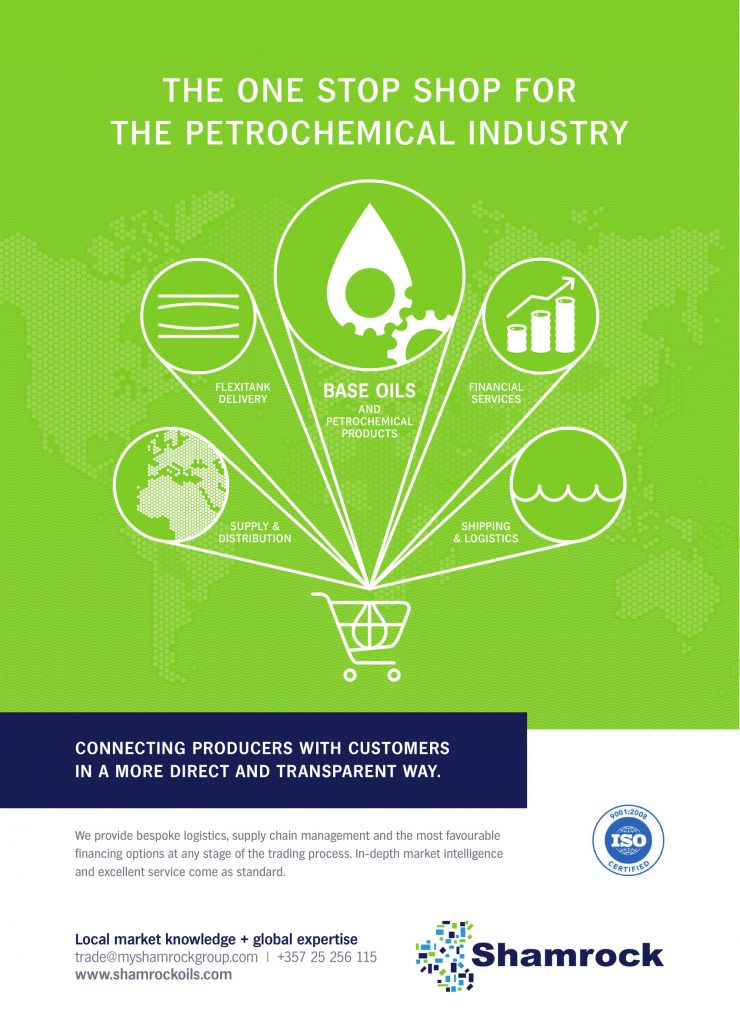 Distribution chains, like supply chains, can be complex and sensitive and, as industry players seek to grow into new markets, it becomes more important than ever to set up a robust and flexible strategy – one which must align with other elements of the supply chain, including logistics and financing. The right partner can support this sensitive balancing act to ensure efficiency and responsiveness and help you to avoid many of the logistical issues and trade-related risks.
Petrochemical producers are acutely aware of the particular challenges to create the most responsive and competitive supply chains. With customers demanding more than ever before and tougher environmental regulations, it is imperative to create a cost-effective supply chain that will result in the best customer service and, ultimately, commercial success. An important part of this is finding the right channels, be it for additives, solvents, glycols, biofuels or other petroleum products. Additionally, organising the most efficient and reliable transport to ensure a smooth, timely and safe delivery is key. A partner with global supply chain expertise can also help to develop new markets, assessing the opportunity risks and advising on different regulations.
Having access to financing enhances a company's ability to control its day-to-day running costs, buy in bulk and earn higher profit margins. Companies can further avoid bankruptcy risks by the support of external financing, and of course enhance competition and productivity by entering the international arena.
However, political instability, currency volatilities and a changing competitive landscape are all causing challenges for trade. Towards the end of last year, it was estimated that there was a $1.5tr trade deficit. However, companies need not be restricted to financial services available locally because there are far more financing alternatives that exist; a partner experienced in trade finance will be able to advise on the best solutions and take care of all the frequently complicated documentation.
GLOBAL SOLUTIONS
Shamrock believes that it is the blend of these three ingredients that support the growth and development of a sustainable and competitive business. The company's understanding and experience of the European and global petrochemical market spans 15 years, during which it has built up intricate knowledge of supply chain management and trade finance solutions. Its team has truly global experience, working with customers in 40 countries across all continents, and can always offer its customers the most reliable channels for their product needs and customise logistics solutions to their specific business needs.
Shamrock offers financing solutions to support customers at any stage of the supply chain with better payment terms and lower costs. The company has a long-standing and reputable track record with leading financial institutions and always works with its customers to create better and more outlets for their products. Shamrock is the one-stop-shop for the petrochemicals industry.
This article originally appeared in HCB, October 2018.